THEATRE

COMING SOON, AUGUST 2023:

Wednesdays to Saturdays, 9 August to 2 September.


THE TRIAL OF JEMMY BUTTON


It was the year 1830 when a young aboriginal from Tierra del Fuego was abducted and brought to England. As he was exchanged for a large pearl button, he was given the name of Jemmy Button. He was spared from being exhibited in a human zoo, as was the custom of the time; instead, he was sent to school to be indoctrinated in all aspects of English culture and the Christian religion.
After some time, he was put on a boat and returned to his land – the famous voyage of the Beagle, with Charles Darwin on board – in the hope that he would spread "civilization" among the members of his community.

The Trial of Jemmy Button explores these issues as part of the cycle of plays created for Theatre for Identity.
Theatre for Identity (T4I) is one of the many artistic branches to have emerged from the human rights organization Grandmothers of Plaza de Mayo based in Argentina. The group's mission is to search for the babies appropriated – stolen – by the last Argentinian dictatorship and to help them to recover their identities.

In a nutshell, that is what T4I does: explores the topic of identity.

The idea for this piece was born around a table in Buenos Aires as a way to answer the question: How is it possible to create a play that touches on the subject of national identities colliding with each other? What are the consequences, and what forms of dominance and resistance could emerge from that collision?




...............................................................
ENDED 25TH MARCH 2023
SEPTEMBER
A new play by Tereza Briggs Novaes.
"September" is a new play about love, betrayal and murder that links General Pinochet's coup in Chile on September 11, 1973 and the attacks on New York, on September 11, 2001.
Three lives, two 9/11.
Brazilian theatre director and playwright Tereza Briggs-Novaes has devised a play that spans over three decades and looks at the issue of personal responsibility for great political events.
With
Stephanie Ellyne
John Terence
Bianca Beneduzi
Lukas Rimkus
Directed by Tereza Briggs-Novaes
ENDED DECEMBER 10TH 2022
THE CRITIC

With Gary Heron and Gemma Pantaleo,
Directed by Sally Ripley

Hugh is a renowned theatre critic who seems to have
everything a telegenic 50-something could possibly want:
success, adoring fans, money. Even a basic understanding
of Twitter.

Privately it's another story. He has no real friends and gets regular death threats. And tonight, someone who bears a very real grudge against Hugh is planning to exact their revenge, once and for all...
photos: Robert Piwko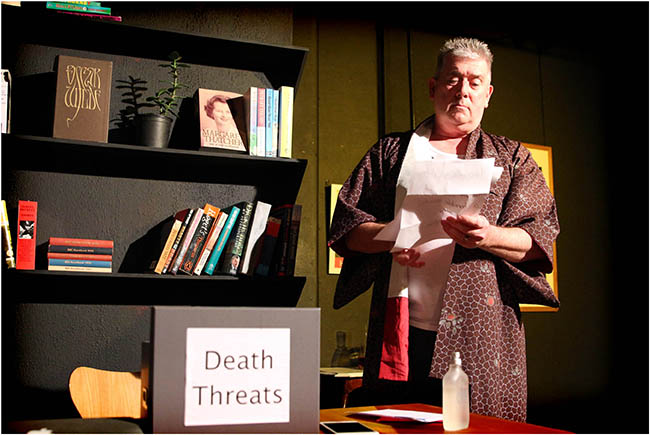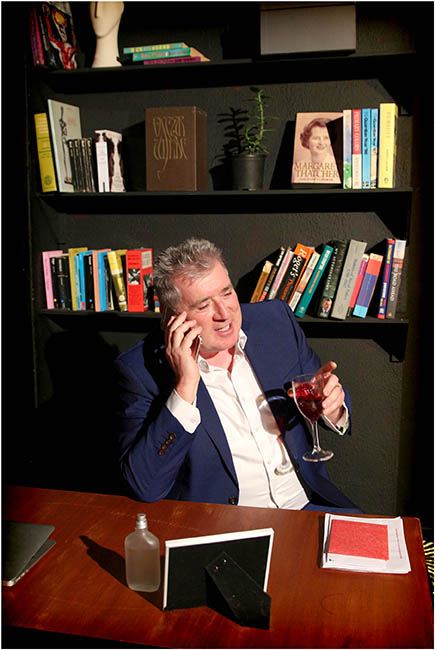 The Calder Bookshop & Theatre. 51 The Cut SE1 8LF. 020 7620 2900.