SHOPPING AND FUCKING
Written by Mark Ravenhill, first performed in London in 1996 and all over the world ever since.
It's the late nineties, people have money to spare and consumerism reigns supreme on an epic scale. The Shopping Centre becomes both aspirational mecca and erotic fetish. Shopping and lust run wild, feed from each other and become brutal, but can love resist the laws of the market of will in the end become commodified as everything else?
A play about the way we were -not that long ago- To be read with a smile (or some tears)
TROILUS AND CRESSIDA
William Shakespeare, written c 1602.
We could have never let Shakespeare out! We are in the middle of a never-ending war -the Trojan War- Boy loves girl, girl loves boy, but she deliberately keeps him away. She suspects that if she gives in his interest will vanish. It doesn't help that the boy is a prince, and she is the daughter of a traitor.
Love is a battlefield, but do the same rules apply to love and war?
Shakespeare's monumental and forgotten masterpiece is only surpassed in length by Hamlet. Ideal to read during a long, cold, snowy night.
BETRAYAL
Written by Harold Pinter in 1978, it has become one the most celebrated plays of the 20th century.
Wouldn't we love to know the future of a relationship the moment we start it?
Harold Pinter has the answer. Betrayal is the story of three friends and a clandestine affair told backwards, from the bitter end of a relationship to the hopeful beginning.
This resource has been copied many times ever since, especially in film. But this is the never surpassed original.
THE GAME OF LOVE AND CHANCE

Written by Pierre de Marivaux in 1730.
Love and Class, or better said, love against class.
What happens is we (God forbid!) find love outside our social circle? Can love defeat prejudices or are we totally conditioned by our sense of belonging?
The conflict has never been so elegantly sorted as in Marivaux's play.
Spoiler! The contents of the play are highly ironic.
ARCADIA
Written by Tom Stoppard in 1993.

Love and the most unlikely of combinations: mathematics. Also, quantic physics, algorithms, thermodynamics and chaos theory in general. Especially unlikely if all those complex concepts are being brewed avant la lettre in the brain of a young girl at the beginning of the nineteen Century. Two hundred years after some researchers are fascinated by this story and try to find out what happened to her.
LES LIAISONS DANGEREUSES
1985- Written by Christopher Hampton, adapted from the classic by Pierre Choderlos de Laclos from 1782.

Love served as the most exquisite of dishes. Seasoned with a bit of cruelty perhaps. The protagonists promise themselves all sort of delights to whet the appetite, but of reality proves to be richer and more complex than planned… and the guillotine is just around the corner.
Rare finds:
OVER TO YOU. NEW BROADCASTS BY THE RAF


A collection of stories chosen from over 900 broadcasts given by Royal Air Force officers and airmen, March 1942 - May 1943.

Prepared by the Air ministry for the Ministry of Information.

Published by His Majesty's Stationery office 1943.

WOMEN'S SUFFRAGE

A Short History of a Great Movement


By Millicent Garrett Fawcett

A first Edition from 1912,

The People's Books.

THE OLD VIC
1949-1950


By Lionel Hale and Philip Hope-Wallace.

A review of five theatre productions, full of information and great pictures.

Published by Evans Brothers Ltd.

THE DRAMATIC PEERAGE 1892


Compiled by Erskine Reid and Herbert Compton.

A review of the great theatrical names of the 1890s.

A lost piece of Victoriana, the fantastic pieces of advertisement transport us straight into that time, halfway between modernity and a past that refused to die completely:

As an example: W. Clarkson, Costumier and Perruquier to Her Majesty, ofering costumes, wigs, and the finest imitation diamonds in existence for fancy dress balls, amateur theatricals and (could it be more wonderful?) tableaux vivants.
All that living alongside "The absolutely unbreakable Duchess Corset", in black, white and dove colours.

Send us an email to info@calderbookshop.com for a quote.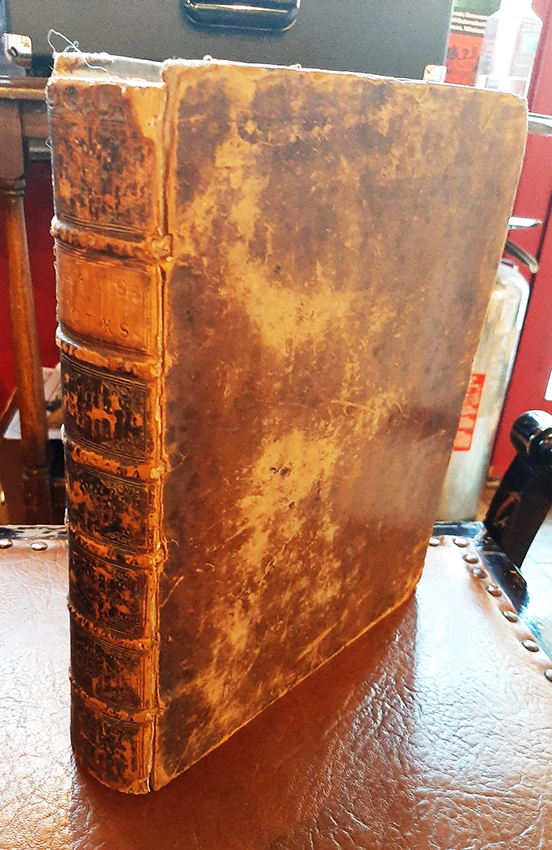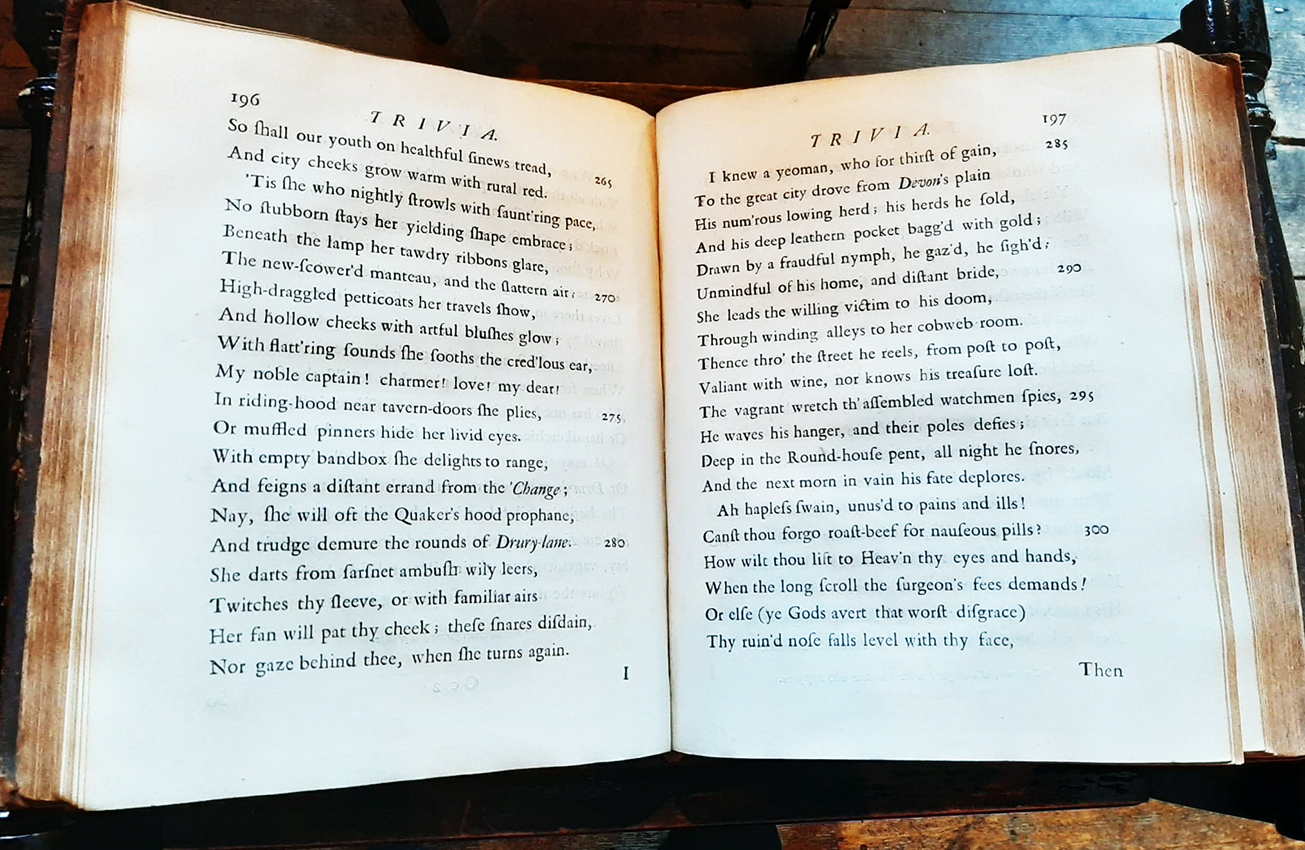 Poems on different occasions

By John Gay

Printed by Jacob Tonsn at Shakespeare's Head in the Strand,
and Bernard Lintot in Fleet Street

exactly 300 years ago.

Send us an email to info@calderbookshop.com for a quote.
The Theatrical Recorder

Written and published by Thomas Holcroft.

Printed by C. Mercier and Co in London in 1805

Beautiful prints! As Thoms Holcroft once said: "Thau hath suffered worse than this" Stay patient, safe and keep your imagination going.

Send us an email to info@calderbookshop.com for a quote.

THE BLUE BIRD

by Maurice Maeterlinck
Beautiful edition from 1912, translated by Alexander Teixeira de Matos,
lavishly illustrated by F. Cayley Robinson.
A play for children first published as
L'Oiseau bleu
in 1908.
In a fairy-tale-like setting, Tyltyl and Mytyl,
the son and daughter of a poor woodcutter,
are sent out by the Fairy Bérylune to search
the world for the Blue Bird of Happines.
See more details and price
here
Coming later in the year:
An evening of discussion and analysis of the political content of some well-known comics.

t's The year is 50 bc, Gaul is entirely
occupied by the Romans. Well, not
entirely… one small village of
indomitable Gauls still holds out
against the invaders.
Then Julius Caesar comes up with a
brilliant idea, a new and creative way
of domination:
to introduce capitalism into the village.

The Calder Bookshop & Theatre. 51 The Cut SE1 8LF. 020 7620 2900.